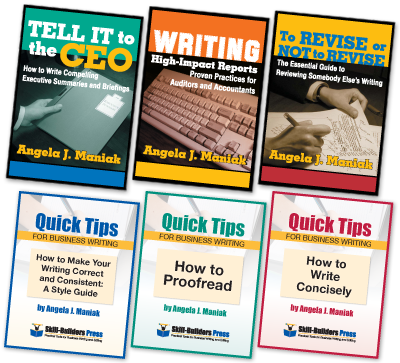 Contact:
e: angela@amaniak.com
p: 207-323-3514
Angela J. Maniak is recognized worldwide for her expertise in helping auditors and accountants report their results convincingly and concisely. Her new publications include the following titles:
Tell It to the CEO: How to Write Compelling Executive Summaries and Briefings
To Revise or Not to Revise: The Essential Guide to Reviewing Somebody Else's Writing
Writing High-Impact Reports: Proven Practices for Auditors and Accountants
Angela is also the author of Quick Tips for Business Writers, including the following topics:
How to Write Concisely
How to Proofread
How to Make Your Writing Correct and Consistent
Since 1986, Angela J. Maniak has consulted to over 100 organizations and trained thousands of professionals to gain attention, acceptance, and action through their reports and presentations. She has taught throughout the U.S. and in Africa, Asia, Canada, Europe, Mexico, and South America. Every year, Angela is invited to speak at major professional conferences.
Clients Report High Payback from Training
Professionals request and recommend Angela's programs because they find them practical, relevant, and cost-effective. They cite measurable outcomes from her training and consulting. These include dramatic cuts in report cycle time, measurable improvements in report effectiveness, and unsolicited positive feedback from senior management, including CFOs and CEOs!
How the Spark Ignited
Angela J. Maniak sparked changes in the way auditors report their work with her article, "Clear Writing: Rx for Foggy Audit Reports," published in the Internal Auditor journal in 1981. That article won the IIA's Thurston Award for Outstanding Publication and helped launch the subject of audit reports to new levels of recognition. Today, audit professionals continuously rank communication skills as a #1 need. World-class audit departments cite the effectiveness and timeliness of their presentations and reports as key ingredients in their recipe for value-added work.
Angela's Experience Covers All Industries
Angela has worked with prestigious organizations such as: Accenture, Aegon, American Express, AT&T, Dell Computer, Eli Lilly, General Electric, Guidant Corporation, Marathon Oil, Metropolitan Life, Novartis, Sears, Roebuck and Co., U.S. Steel Corporation, and the U.S. Postal Inspection Service. Scores of other organizations are among Angela's clientele.
Angela was previously the Director of Audit Professional Practices for Bank of Boston, Program Manager for Bank Administration Institute, and Technical Editor at the Federal Reserve Bank of Chicago. Her B.A. and M.A. are from Indiana University.