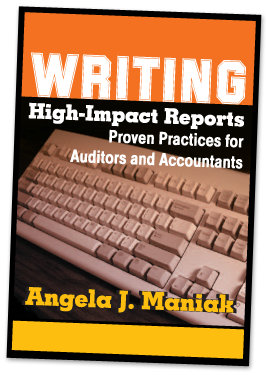 You show clients the value of your work through your written communication.
Writing High-Impact Reports shows you how to:
Communicate key points concretely and concisely so that all readers will understand.
Convey impacts convincingly so that clients will see the significance.
Document action plans that reduce risks and improve performance — now and in the future.
Follow a step-by-step approach to write it right the first time.
Write so that recipients will respond positively to your reports.
---
What's

New and Unique in Writing High-Impact Reports:
Focuses on what to do BEFORE you write so that you minimize re-writing later.
Shows you how to write the report throughout the engagement so that the report is done when the project is done.
Describes what clients want and expect from your reports.
Includes samples of what to do and what to avoid.
---
In

addition to the book, you also receive:
A laminated Tip Sheet for easy reference.
A CD with additional samples, answers to exercises, and electronic files of Writing Tips.
---
If you would like to purchase books, please email your request to: angela@amaniak.com